I woke up that morning and looked up toward that beauty gently covered by the morning sun.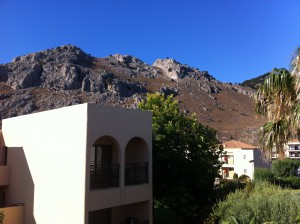 Rhodes 2015. We came to Kolymbia on July 11th. It was not the first time we travelled on that way. Every time it was a different destination and now it was something special.
Swimming in the deep blue was something I really enjoyed but my eyes looked at the beauty above me, above the beach.
I finally decided. I had to climb up to the top. Why? Simply because I can and because I want.
I chose to do it in the late afternoon, at 5 pm Greek time. I took a smaller bottle of water, training shoes and begun the adventure.
The beauty was around 400m high but it felt like it was an endless way up to the top. I started too fast and already during the first part of the hill I begun to feel exhausted. It was very hot outside. I thought that the temperature would be falling at that time but the heat was all around me.
The sunshine covered both the beauty and me. As I continued upward I noticed that there were no shadows. Not a single one! I had my hat on the head and some water left in the bottle.
Should I give up or not, I thought. It felt too risky but I also felt the strength to continue. I simply wanted to reach the top. I did not feel any weakness in the body besides the tiredness and I have no problem with the health so I kept climbing.
On the way up and below the top I met five people doing the same thing as I did but I did not have any contact with them besides saying "hi".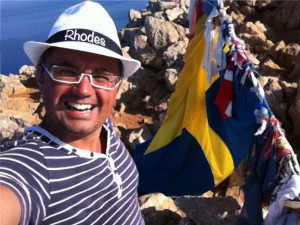 Finally, from the very hot and open area I came to the big rocks at the top and I suddenly got some new and fresh energy because I also could rest some seconds in some shadows.
After some last meters I was there – I simply succeeded  – I reached the top! Wonderful! Great!
I found some flags and I felt like one of the winners!
As I reached the top I simply took my phone and made some great pictures – yeah the view was simply fantastic. I enjoyed and the feeling was as I called it "Like being on the Little Mount Everest" .
I love you Rhodes!