Trans-Siberian Railway, Part I, Moscow
The trip begun at Copenhagen airport Kastrup.  We landed at Moscow International Airport Sheremetyevo. It was cloudy weather but it didn't rain.
While trying to decide what taxi to choose, one young man came to us and told us that he could drive us to the city and also tell us more about his home town.
The trip to the city of Moscow was successful. We heard many interesting details and the young man was very pleasant.
One of these details was that Moscow is surrounded by The Moscow Automobile Ring Road MKAD (МКАД).  It was built during 1950's and opened 1961 because it was needed to redirect incoming traffic from major roads that run through the city.
Same day, after the checking in to the hotel we went to the city – as we did the rest of the days in Moscow.
In the city we could see some of The Seven Sisters buildings. These are a group of seven skyscrapers in Moscow designed in the Stalinist style.
They were huge and the feeling I got standing below one of them was indescribable powerful.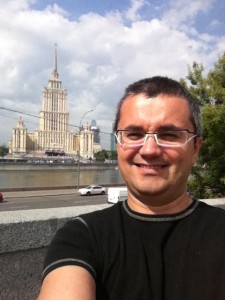 Streets in the central ring/rings of the city are wide and there are no zebra crossings there but there are tunnels under these streets so the people can go over to the other side. The reason for this solution is the traffic. There are too many cars for being controlled by traffic lights.
There are many big bridges over the  Moskva River running through Moscow.
One very positive picture of Moscow city I got was that I didn't see any suspicious people or groups. With suspicious people I mean people who are ready to fool you on any way and people that act as pickpockets as they use to do in other European cites as Paris, Berlin, Munich, Copenhagen, Malmoe, Stockholm, Vienna and so on…
On the other side I do not know how it is in suburbs but I am almost sure that there is not so huge difference between people there and people inside the central city.
One negative picture I got was that the communication in English was a mission impossible in some situations. However, we were lucky because our language has some similarities to the Russian language and that made the communication easier.