The journey continued. We left that beautiful city Yekaterinburg but the city did not leave our hearts. It is still there.
Now we were far away from the central European continent. We were deep inside Russia.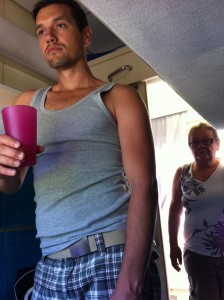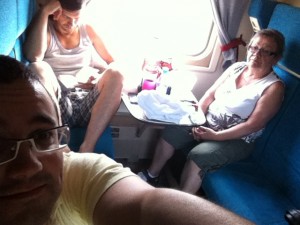 Satisfied travellers  – we had a great time and this trip is to recommend!
Together with many young Russian soldiers (Russian army) we continued the trip. In our coupe we had an older man from Omsk – the next one big city in our direction. We didn't have so much conversation with him but we understood that he was on the way home from his work in some Russian industry.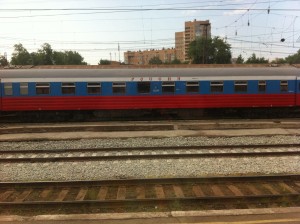 Some of wagons on our train looked like this
After Omsk we got a new passenger in our coupe. Nikita was/is his name. He was/is a student, studying industrial engineering. We had many hours in the front of us so our conversation was quite developed, while we played a Yugoslavian card game called Remi.
We learned him play that card game using our language and trying to use some English. His English was too bad. But from his perspective… He did/does not need English. As industrial engineer he will be very good educated (likely all former Yugoslavian students) and he will get some good job in Russian industry. English is good to know, it opens all doors, but this young man will probably never need it.
Novosibirsk city was the next stop. It was late night and it was raining. The lights all around us gave the feeling of being in some big city. And Novosibirsk is a big city. Around 1,5 million inhabitants.
My brother and me left the train just to take a quick walk on the station and our mother stayed outside of the train- she took smoking break.
The rain was little bit irritating as always but it could not stop us from going out and making some steps on the big square outside of the big railway station building. When I see that place on some photo on the internet or on TV, I simply recognize it as "I was there" place.
Finally we left Novosibirsk. Some young men, new travelers,  came in to our wagon and they were curious to hear something little about us, as passengers from Sweden.  After a shorter conversation we had with them, the last sentence they said was: "Welcome to mother Russia" in their famous Russian dialect. Great – that made the feeling of being in Russia more original!
As we came closer to the next city, Irkutsk, we were looking forward to leave the train for a day. An older woman who could speak in German opened a conversation with us (with me, as I was the one German speaking person there) and her destination was Irkutsk. She took the train from Berlin in Germany all the way to this city far away from central Europe. (From Moscow it was like never ending story so I can only imagine how endless trip from Berlin to Irkutsk it could be.)
She told me that there is a very long highway (autobahn) from Moscow through the whole Russia, builded up by some M – Federal Highways (Федеральная автомобильная дорога),  but it is not comfortable as the German autobahn. Who knows, maybe the car trip in Russian is the next one!
Nikita didn't manage English because he simply didn't need that language.  I didn't need German language because I already could/can manage Serbocroatian, Swedish and English but I chose to learn German too. Language is always good to know!