What would you choose this time?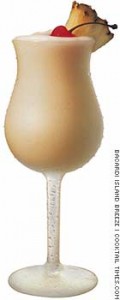 When I was in wonderful and sunny Cuba 2008 I tasted a very good Pina Colada on an island called Cayo Blanco.
It was a great experience!
On of recipes for this cool Coctail:
Ingredients:
– 1 1/2 oz light rum
– 4 oz pineapple juice
– 2 oz coconut cream
– 1 cup crushed ice
Garnish: cherry and pineapple
Mix all ingredients in a blender until smooth. Pour into a tall glass and garnish with fruits.
Image and ingredients source:
http://www.cocktailtimes.com/