Written by: IT Team on November 13, 2023.
LearnPress - a tool for your business
LearnPress - a tool for your business. We have decided to present it in this article just because we find it very practical but also easy to use.
Our curiosity has redirected our focus towards a very interesting tool. Actually, it is a WordPress plugin. We contacted the Swedish company Begacom IT Business and asked if they have some experience with this tool since they do not offer any similar solution.
We will try to summarize what we have heard. The plugin is free to use which is great considering the fact that it is very good and useful tool. How does it work and is it difficult to use?
After installing it inside wp-admin the next steps are not difficult even though it might appear so. However, every new tool leaves that kind of impression from the first start. LearnPress has an own menu on the left side of wp-admin. There you can choose what to do and it is pretty clear what to do. Maybe even how to do it.
You simply begin to create your courses and then different lessons for each course. In every lesson you write the description and instructions and you can embed some video or sound files.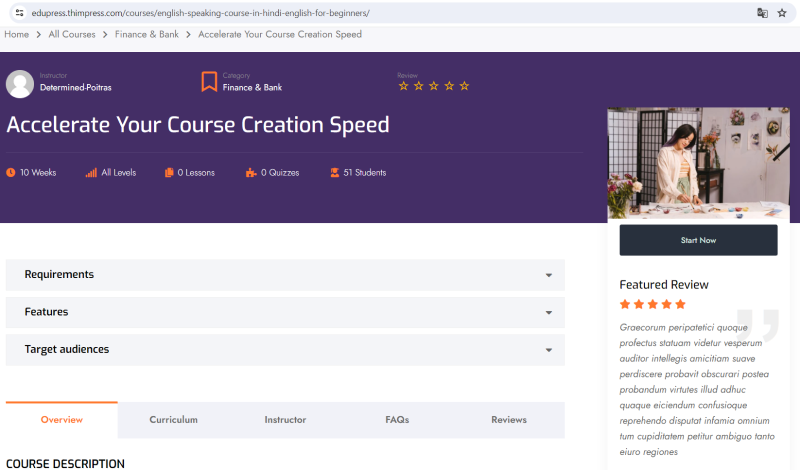 Lessons and course information
All lessons are locked if you are not registered user in wp-admin and if you do not pay. Payment can be done manually and it is the administrator who can open the access when he or she approves it inside the course settings in wp-admin.
Publishing the course and the access to it on the website is not difficult. There is a parameter/text string which can be placed inside a page content. The plugin automatically replaces it with the LearnPress content.
The website visitors can see information about the available courses. For example you can see some short description, content, course leader and the price.
At the end we can simply say that LearnPress is a very practical tool for those who want to offer own courses regardless if they cost or not. If you need something like that, we can encourage you to give it a try. It is for free and does not require registration.
Back to the to previous page