Bloody attacks in Munich, Brussels and Paris in a short period. Why do people feel for killing? Europe is in danger and the union does not feel good anymore. We also have small member states that are not not willing to cooperate and do their  part of responsibilities as members.
In one of the articles  in this magazine it was written about the European Union and its existence.  Today it looks like the union is closer to its end than ever before. On one side we have Great Britain that is thinking about leaving the union.  On the other side we have small member states that are not willing to cooperate and do their part of responsibilities as members.  For example, Poland, Czech Republic, Slovakia, Hungary and the Baltic countries have shown that they are not honest members of the union. Also the fresh new member Croatia has already started to complain:
The EU must have talk with Great Britain because it is a big country, but with us they can play like with a ball.
Small member states with huge expectations are dangerous because they never can be satisfied and they are not possible to trust on. They expect much but they are not willing to give.
There is one more detail: The terrorism. Bloody attacks in Munich at the train station, airport in Brussels and in the Paris city in a short period. Why do people feel for killing?
Europe is in danger. As one Slovakian politician said:
I really hope that some more terrorist attacks will happen in Europe just to help the politicians in the European Union to realize that we are in danger.
And it happened. In May 10th 2016, the last one attack –  in Munich. But was this one as the Slovakian politician hoped to? However it is an attack and it is the terrorist attack!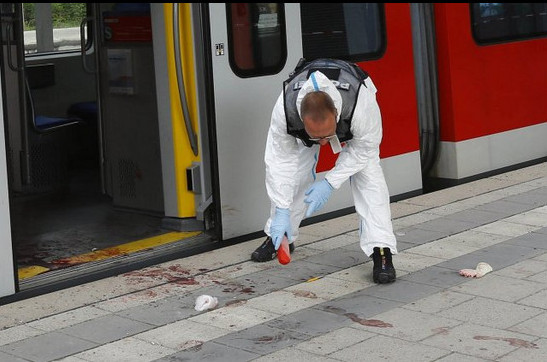 The screenshot taken at www.kurir.rs shows the train at the Grafing station in Munich. Photo:AP
What can be done at this battlefield to prevent more attacks and to save all people living in Europe?
As it is now this is just a beginning and it will never end – until something happens. But what is that something? Another war in Europe? Does our continent need another new war?
What about the relation to Russia? Instead of trying to solve the European problems, our politicians are trying to make us look towards Russia because of the Russian "aggressive behavior". They want us to think that Russia wants war with the European Union but they are not able to take care of the visible and invisible problems inside the member states.  Europe needs Russia and Russia needs Europe. Together these both sides can feel better. We are talking about cooperation in terms of business and safety.
Who knows, maybe suddenly people begin to explode in our cities, on our streets. Are we safe? Who is more dangerous, Russia or the internal problems in the European Union? Russia is not a danger until someone attacks them so that is quite easy to understand. But are the European cities, airports and train stations some kind of danger? Yes, they are now. The safety and comfort are gone.
I lived in Munich in 8 months in 2005 and the city was perfect. It was safe. It was pleasant. Now when I read what happened in Munich I easily can say that this perfect European city has become everything else but the safe place as it was back then.
The European battlefield is simply a place where people no more can live in harmony as before because they are surrounded by expressions like terrorism and delusion about Russia as an enemy. The union is on the way to split and become a place with borders again.
I love European Union and I am worried because it does not feel good any more.